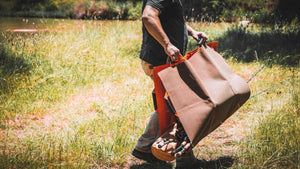 Who is the OX Mat made for?
Hunters, mechanics, soldiers, law enforcement, landscapers, construction workers, and anyone who needs to carry or move heavy loads weighing up to a half ton
Can I drag the OX Mat across the ground?
The mat is able to be drug across soft landscape but should not be drug across tough terrain like rocks or concrete since it is not laminated on the back side.
How much can an OX Mat lift?
The OX Mat can lift up to 1,000lbs (1/2 ton).
How can the OX Mat handle so much weight?
Each of our heavy-duty OX Mats is built with durable inner and outer webbing, #6 heavy duty thread, zigzag/bartack stitching at critical pressure points, and high-strength soft rubber handles for easy lifting.
How do I clean an OX Mat?
The OX Mat can be pressure washed clean.
How big is the OX Mat?
Laid out flat the OX Mat is 5'x3'. It folds up to fit in our 1'x2' bag for easy travel. Larger sizes of the OX Mat will soon be available.
Is there a warranty?
Yes. Each OX Mat includes a 1-year warranty. Click Here for more information.